Dan_TL1000R


Administrador del foro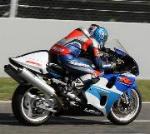 Mensajes: 1.458
Desde: 23/Mar/2013

·

·

#1
·

February 2, 2017
This article was originally published in the June 1998 issue of Sport Rider magazine.
The statement from Mr. Hiroshi Moritake, project leader for Suzuki's new TL1000R, left no doubt as to his company's intentions concerning their latest V-twin sportbike.
"The concept behind the TL1000R is simple: Build a V-twin with the potential to win Superbike races."
Ever since the blood-red desmos from Italy started showing Japan the V-twin's performance potential in Superbike competition, some of the Big Four's R&D departments have been busy burning the midnight oil in a mad rush to build one of their own. Suzuki's own TL1000S created a stir upon its introduction last year, with features like a 114-horsepower powerplant, and an aluminum, trellis-type, oval-tube frame utilizing a unique rotary damper in place of a standard single rear shock, showing they were serious about this V-twin sportbike business. Nevertheless, initial Japanese offerings last year seemed to be a tad soft in focus, as if they were a precursor to even greater things in the future.
The new Suzuki TL1000R definitely makes no bones about its intent. Besides the racy, full-coverage bodywork (complete with a unique, aerodynamic "shark nose" front fairing), the TL-R does away with the S-model's trellis-type chassis in favor of a beefy twin-spar frame, similar to its GSX-R four-cylinder cousins. Various updates were made to engine internals as well, not only to increase power output in stock form, but to maximize performance potential when fully modified for competition use.
Suzuki decided to showcase the new TL1000R's racetrack potential by introducing it to the world's moto-press at Eastern Creek International Raceway, down in Australia. Two days of apex-strafing, to-the-limit riding at the Creek would be sure to expose any flaws. (Although our riding was restricted to racetrack only; no street seat-time was involved, which hampered our initial impressions somewhat.)
In designing the TL-R, Suzuki engineers concentrated on three areas during the initial concept phase. First and foremost, obviously, was performance. The R-version motor received the usual host of power-boosting changes—a slightly redesigned ram-airbox, dual-injector throttle bodies, hotter cams, forged pistons, revised ignition, etc.—all of which increase power output to a claimed 135 horsepower at the crank. Chassis-wise, the aforementioned twin-spar, aluminum frame is mated to a heavily braced swingarm. The stout-looking assembly makes the S-model's trellis-type framework look somewhat flimsy by comparison. The separate rotary damper/spring unit rear suspension setup was slightly redesigned, with the complete assembly relocated for easier access. The damper unit gains a temperature-compensating feature, while both components work through revamped linkages.
Aerodynamics was the next area to be dealt with. Wind tunnel testing has become a standard development tool, and Suzuki engineers used it to design a fairing that features a slant-nosed front cowling that protrudes further forward than any current sportbike, in order to slice the wind better. Twin-stacked radiators cut the frontal area, while the exhaust canisters tuck up next to the tail section and are shaped to smooth the airflow behind the rider's back, reducing turbulence trailing the motorcycle—another source of aerodynamic drag.
The final section was what the Suzuki engineers referred to as "setup freedom." The intent of the TL1000R is to be a platform upon which to build a V-twin Superbike racer; this means total adjustability is of paramount concern. It's imperative that the rider's personal preference, different circuits, and varying track conditions can be dialed-in to the bike. To this end, Suzuki is making an extensive list of racing kit parts available, including a range of chassis- adjustment components. Key chassis areas—such as rear ride height, steering stem rake, steering stem offset, and swingarm pivot position—can all be altered using these parts. (A vast array of engine kit parts are available as well.)
While we didn't get a chance to experiment with varying chassis adjustments using some of the racing kit parts during our sessions at Eastern Creek, we did find that the TL1000R's stock setup worked just fine. With an incredibly short wheelbase measuring just 54.9 inches, mated to seriously steep rake/trail figures of 23 degrees/90.6mm, we were expecting the TL-R to be a twitchy, nervous-handling beast requiring careful inputs through Eastern Creek's bumpy sections. Surprisingly, the TL-R worked quite well, displaying excellent stability even while accelerating hard over the gnarly bits. Like most machines with radical front-end geometry, however, the TL-R was very sensitive to suspension setup. And considering the rake/trail numbers, making that initial flick into turns took a bit more muscle than we're accustomed to with a V-twin.
The difference in chassis feel compared with the S-model was readily apparent, especially when railing through Eastern Creek's tight and twisty back section. Whereas the TL-S occasionally made you feel as if you were riding high above the tire contact patches during hard cornering, the TL-R feels much more planted, inspiring greater rider confidence. Stability under hard braking was very good, with the R-model's six-piston calipers providing excellent power, albeit with a tad less feel than we'd like.
The TL-R's engine proved to be an interesting combination. Due to its racing intent, the bulk of the motor's power is up top, similar to an in-line four. The TL engine is also revvier than most V-twins, which means getting the best drive off the corners requires you to spool it up much more than expected with a V-twin. Top-end acceleration and speed were excellent, although midrange grunt seemed to actually be lacking compared with the S-model, considering the engine modifications between the two. This is probably the first V-twin we've ever had to ride like an in-line four. (We later found out that much of that midrange torque was supposedly lost due to lean jetting, in order to pass EPA pipe-sniffers and to keep the fuel mileage up. Remember the TL1000S's dismal range? Apparently a few clicks from the race kit "jetting programmer" is all it takes to restore this lost power. We'll see.)
Since there was no street riding during this intro, evaluations concerning rider ergos, engine vibration, and suspension action while cornering at a street-sane pace, are difficult to quantify. Initial impressions of the riding position felt very similar to the GSX-R; racy, but not enough to be insufferable. The rider's torso is canted forward more than on the TL-S, but a wide, flat, seat and decent legroom keep things from getting too cramped up.
As far as track impressions go, we were impressed with Suzuki's new TL-R. Its racing intent and performance potential are readily apparent, and the bike is designed with that concept in mind. We're sure that 90 percent of the bikes sold won't remain stock for long. Whether its performance will be enough to put it up with the sportbike world's class elite will have to wait until a full test. Stay tuned.
ATENCIÓN: Este tema no tiene actividad desde hace más de 6 MESES,
te recomendamos abrir un nuevo tema en lugar de responder al actual
Opciones:Subscríbete a este tema
Date de baja de este tema

TU NO PUEDES Escribir nuevos temas en este foro
TU NO PUEDES Responder a los temas en este foro
TU NO PUEDES Editar tus propios mensajes en este foro
TU NO PUEDES Borrar tus propios mensajes en este foro


Ahora son las 12:54 UTC+02:00 DST